Met World Beyond pikt The Walking Dead de draad 10 jaar later op
Wie The Walking Dead niet kent, heeft de afgelopen 10 jaar onder een steen geleefd. De AMC-reeks, die het leven na een uitbraak van een zombie-apocalypse in beeld brengt, herschreef de manier waarop we ons een beeld vormen van de ondoden en vooral .. hoe ze vaak niet eens het ergste zijn. In 2015 kregen we met 'Fear the walking dead' een spin-off/prequel geserveerd en in 2020 volgt een compleet nieuwe reeks met The Walking Dead: World Beyond.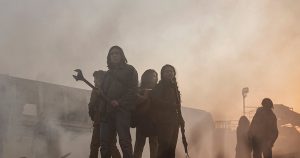 JAJ ZOMBIES! In 2018 werd deze nieuwe serie reeds aangekondigd, waardoor heel wat zombie-fanatics op het puntje van hun stoel zaten te wachten. De trailer is er ondertussen al en schijnbaar wordt 'ergens' in 2020 de nieuwe reeks gelanceerd. 
Het verhaal pikt in, 10 jaar na 'The Walking Dead'. De kinderen werden groot, zowel die van de good guys als van de evil guys. Iedereen stelt zich dan ook de vraag hoe de makers hiervan het verhaal van het Walking Dead emperium zullen gaan aanvullen.
Enige downfall: de reeks zal enkel via Amazon Prime Video te bekijken zijn. Een reden om je aan een abonnement te gaan verbinden? Only time will tell.